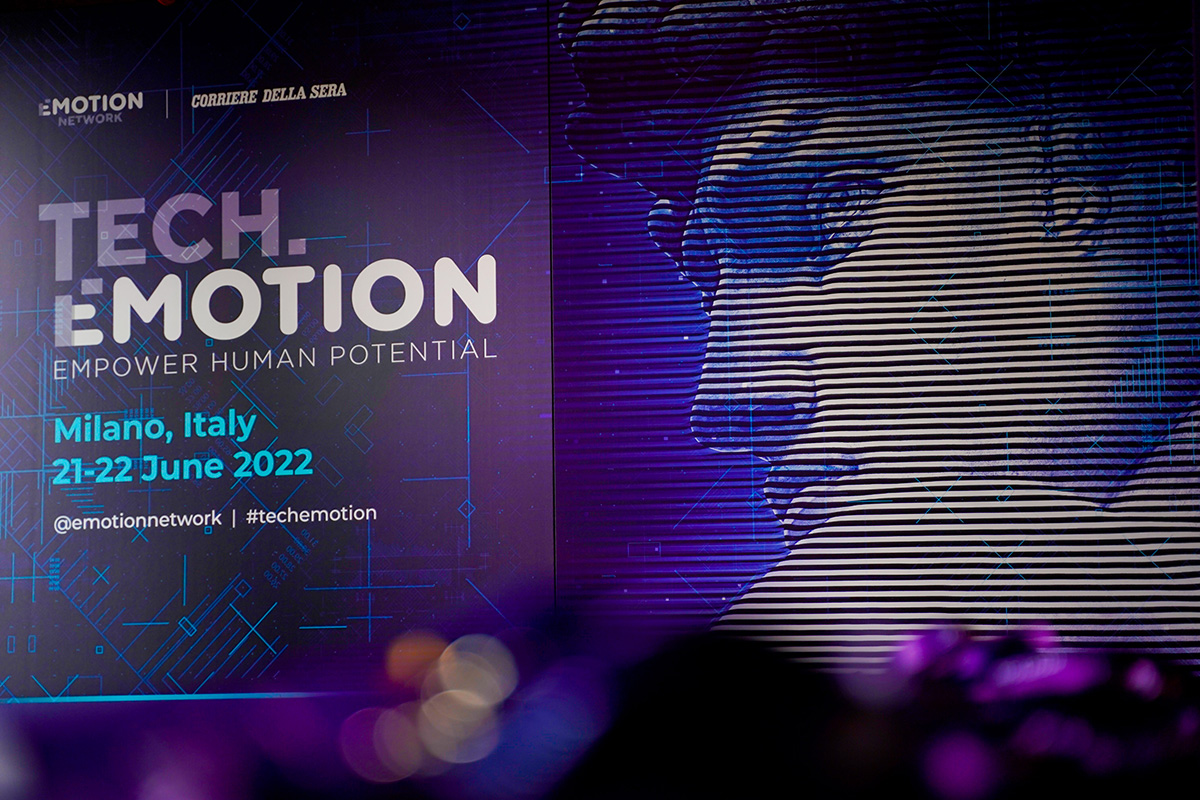 Together with Corriere della Sera and many prestigious partners, on June 21 and 22, 2022 we organized TECH.EMOTION, the first international summit blending technology and emotions, innovation and humanism.
The two days of keynote speeches and round tables brought more than 400 people together in Milan, as well as reaching 4.9 million people through live streaming on Corriere della Sera and 1.9 million people through Sky TG 24 broadcasts.
An extraordinary accomplishment also achieved thanks to the support of our partners: Banca Generali, Enel, Prada Group, Brunello Cucinelli, Cassina, Leone Film Group, Nhood, Novartis, BlackRock, Milano Investment Partners SGR, Sky TG24, The Vision, Barabino & Partners.
Speakers who participated included Marc Benioff (Founder, Chairman and CEO of Salesforce), Lorenzo Bertelli (Prada Marketing Director), Amanda Burden (Principal of Bloomberg Associates), Silvia Candiani (Country Manager of Microsoft Italy), Ernesto Ciorra (Chief Innovability® Officer di Enel Group), Brunello Cucinelli, Oscar Farinetti (Founder of Eataly), Andrea Guerra, Philipp Hildebrand (Vice Chairman of BlackRock), architect Andreas Kipar, Kevin Mayer (former Disney and former Tik Tok CEO, now Chairman of DAZN), Gianmaria Mossa (CEO of Banca Generali), Josè Neves (Founder of Farfetch), Bjorn Oste (Founder Oatly), Corrado Passera (Founder of Illimity), Enrico Resmini (CEO of CDP Venture Capital), Alec Ross, Cristina Scocchia (CEO of Illy), RAI President Marinella Soldi, designer Philippe Starck, Nextdoor founder Nirav Tolia, and architect and designer Patricia Urquiola.
We are very happy to have been able to interest with our first summit a wide audience online and in presence talking about entrepreneurship, investment, design, media, fashion, agri-food, biotechnology, urbanism and startups through the vision of top-notch personalities and we will continue to pursue initiatives that highlight the great potential of Italy and its excellence.
Discover videos, photos and digital press review of TECH.EMOTION summit at the link: www.emotionnetwork.eu/the-summit/tech-emotion-2022.